Description:
Basic information

Brand:HC-801

Speed:20km/h

Power system

ESC:brushed

Motor:brushed

Transmitter

Frequency:2.4GHZ FS

Battery: 3XAA battery(not included)

Battery:

7.4v 1200mah

others

Charge time:4h

Using time:210min

Control distance:50m

Function:forward,backward,left,right

Dimension

Size:350x144x265mm

Weight:1800g
Feature:
High speed use time:60min
Single wheel use time:210 min
Working temperature:40℃
Front and rear wheel have dependent suspension shock.
* The product has: forward, backward, turn left, turn right, indoor mode, outdoor mode, terrain switching, in situ U-turn, self-stabilizing balance, 360 degree drift, stunt single wheel stand and other functions.
* The product can be stabilized and balanced by the traction control of the rear wheel rubber balance wheel, subverting the traditional remote control motorcycle toy.
* The product applies traction smart wheels, which can achieve 360 ​​° drift on the spot through 16 rubber side wheels. The single wheel stands sideways and has a full sense of technology.
* Detachable design for motorcycle riders.
* The product adopts rubber-coated injection wheels, driving more stable and more wear-resistant.
* The independent suspension suspension system of front and rear wheels makes the high-speed driving more stable.
* The body is designed to fold and store the tripod, which is more convenient and realistic.
* The product adopts 6-axle gyroscope to sense the posture, which makes the balance more stable and the operation easier.
* Cool lighting features: LED headlights at the front, LED headlights at the rear, and scene light strips at the bottom of the car body.
* The product application simulator makes the user immersive and experience driving pleasure.
* The product has indoor / outdoor mode switching, and the driving mode is selected according to the size of the use site.
* The product has a terrain mode switching function, and the driving mode is selected according to the outdoor driving ground.
* Ultra-large-capacity battery can be flexibly replaced to make the battery life longer and more convenient.
* Safety function: tilt anti-blocking function, low voltage alarm function.
Package included:
1*RC Car
1*Controller
1*Rechargeable battery(built-in)
1*Charger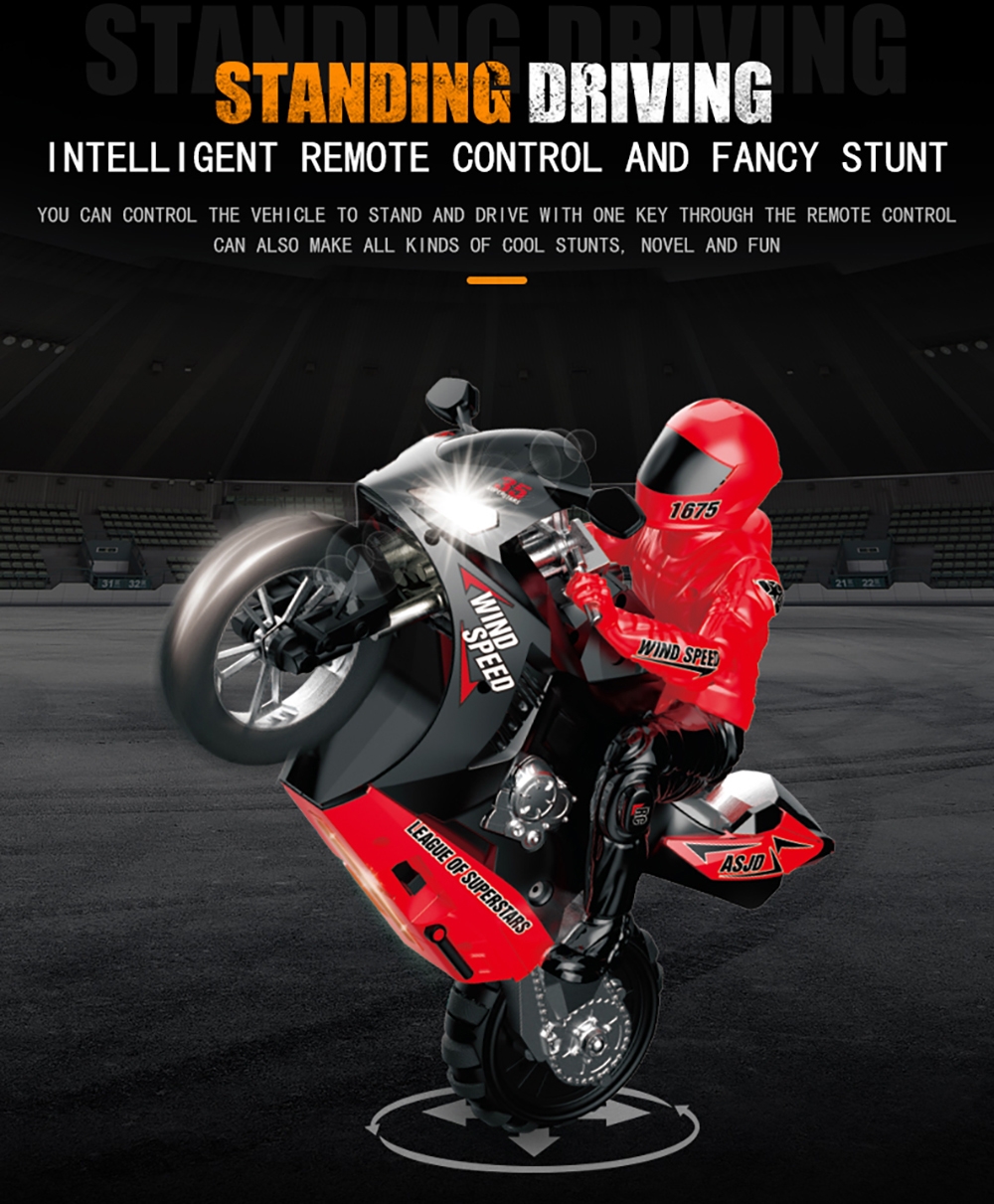 null