HOBBYEAGLE A3-L V2 3-Axis Airplane 3D Gyro Stabilizer For All RX Futaba SBUS RC Airplane
User Manual :
AS-L.PDF
Features
3 Flight Modes: Normal, 3D AVCS and Gyro Off Mode.
Standard wing type, Delta-wing and V-tail.
Remote Master Gain.
Servo Frequencies: 50Hz/125Hz/250Hz
Separated gain adjustment for each flight mode.
Automatic stick centering.
HV (8.4V) operating voltage supported.
Futaba S.Bus / S.Bus 2 supported.
Easy to use, extremely well-suited to beginners.
Specifications
Input Voltage: 5 to 8.4V
Servo Travel: 1520 ± 500μs
Gyroscope: ± 2000dps
Operating Temp: -40 ℃ ~ 85 ℃
Size: 43 × 27mm
Weight: 11 g
Caution Notes
Please confirm the 13-bit unique product series number (S/N) on the bar code label when purchasing. This number can be verified at our website and it is also required in the after-sale service, please keep it securely!
Before power on, put the aileron, elevator and rudder sticks in the middle position. The controller needs to perform self-calibration and stick centering after you plugging the battery, the LED will keep blinking Blue rapidly for about 3 seconds while calibrating, just don't move the plane and the sticks until the initialization is done.
It's extremely important to verify that the gyro reacts in the correct direction before flight, or it could lead to losing control or even crash during flight!
You need to restart the gyro after changing the receiver type to make new setting take effect.
Never use the delta-wing or V-tail mixing functions of your transmitter.
The new A3 series supports a wide working voltage from 5 to 8.4V, HV receivers or servos can be used directly.
The radio control models are not toys. The propellers rotate at high speed and pose potential risk, please carry out debugging and flying in open space far away from the crowd. The beginner should be directed by someone experienced.
Package Included
1 x A3-L V2 Flight Controller
4 x Receiver Wire
2 x 3m Tape
1 x 16V EZ-Plug capacitor to help maintain a secure voltage level during flight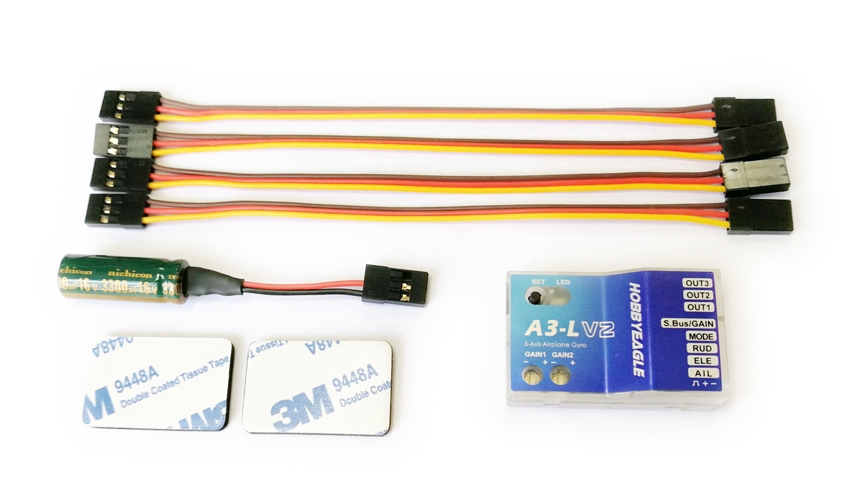 A3-L Setting Menu
When the controller is working, press and hold down the button for more than 2 seconds which will allow you to enter the settings menu as all settings are completed by the button. Please consult the manual for more details.
Feature Comparison of A3 Series