Bricked RunCam split recovery
---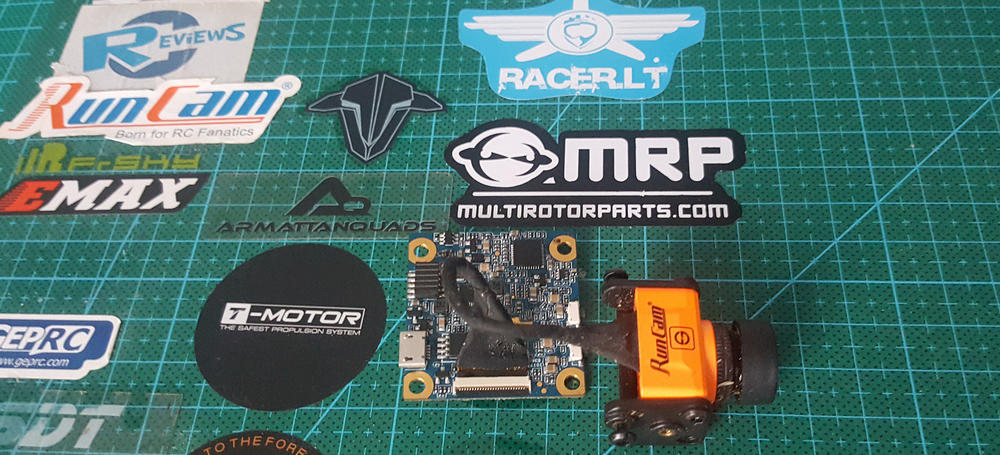 If the Runcam failed updating or other unknown reason it could happen your runcam stops working. The only sign of life would be the red LED blinking when powered.
RunCam tells you to change the ribbon cable between sensor and mainboard and if this does not work send them nudes of you PCB, you will get a new mainboard for free. As it costs you several weeks without your RunCam you may try fixing it yourself.
How to unbrick your RCSplit:
When bricked the cam will not boot until SD firmware flashing. So we just need to install a firmware that does that and get the stock RCSplit FW via SDcard update.
1. Get an old pc with Win7 or find a way to disable driver signature…
2. Download and unpack recovery package: RCSplit_recover_V1.1.0 (including: usb monitor, putty, SPCA6350 drivers, FRM+firmware)
3. Install Driver located in driver folder.
4. Plug in USB of RCSplit while pressing the WiFi Button.
(5. Wait for drivers to install if first time connected)
6. Start FRM.exe (no warning of no device connected should appear).
7. Click "ISP" Button. This will flash firmware and may require up to 4 minutes. (Seems to be required before burning the other images, thanks to Klaus for the feedback, recoonnect and go to next step if not working from first check)
8. Swtich to "Advanced" tab.
9. Rigthclick an item in the right treeview window and select "Burn All".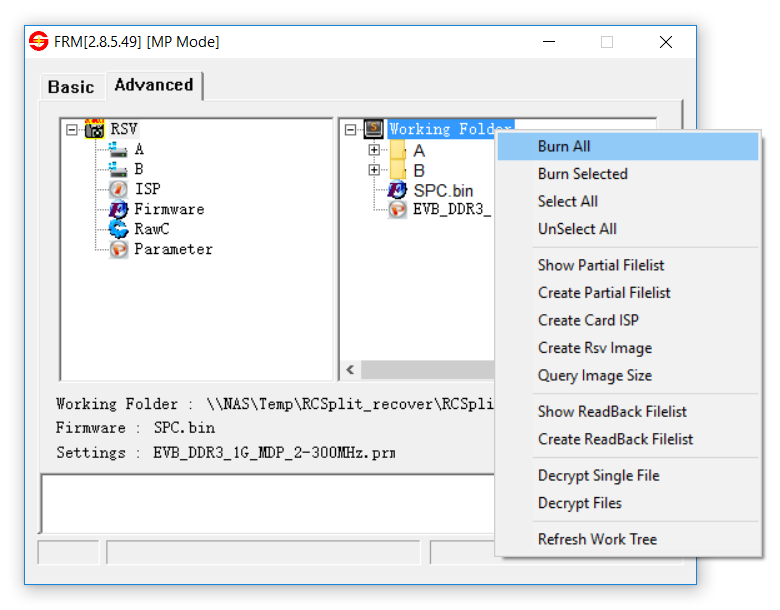 10. Wait 2-3min to finish, click "yes" to all dialoges. Should finish with success.
11. Take an empty SD card and place the files located in sd_card folder.
12. Insert SD card and power RCSplit from USB charger/powerbank.
13. Wait until orange light starts blinking (SD card update).
14. Do not power off until LEDs turn off.
15. RCSplit should work fine again.
I only had my own PBC bricked, so I played around with stock firmware of EKEN H9 but never got it to sd update mode. As the replacement PCB arrived I downloaded the firmware from it and replaced parts of eken stock fw. This is all included in the download package. I don't know if the BRN file the firmware is looking for should be called RCSplit or SPHOST, so I put 2 identical files with different names on the card. Tell me if you know wich one it is. Could be only RCSplit because it is deleted afterwards…
Bootlog & CLI:
To get the CLI connect a 3,3V UART adapter to the testpads (don't forget GND, a GND pad is next to the SD card slot)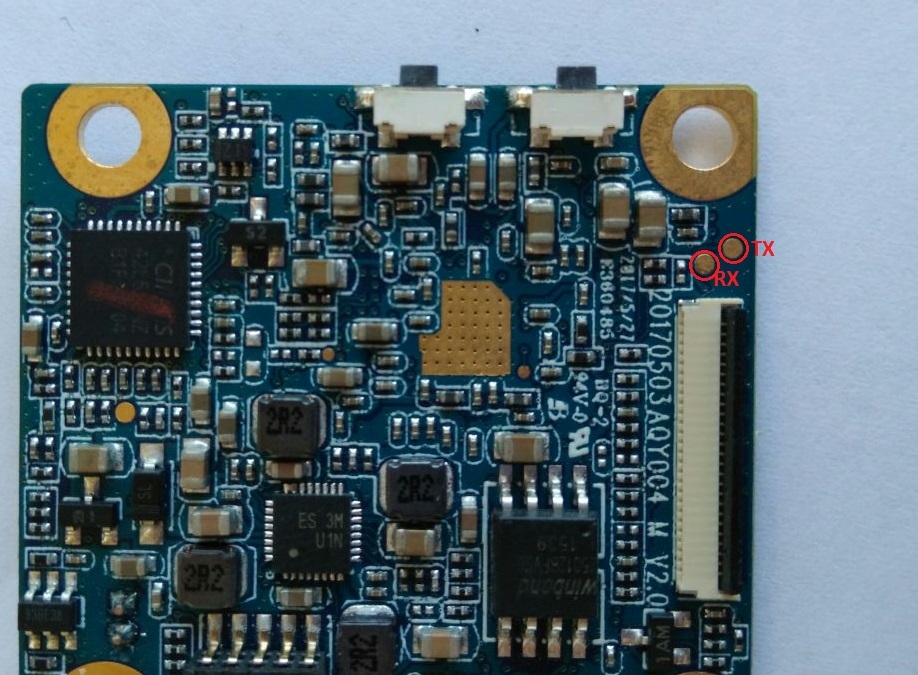 Baudrate is 115200.
You don't need to connect UART for recovery, unless you want more info or play around with cli. For fancy colours use putty as serial terminal.
If someone could send me a bootlog of a unflashed, bricked on would be nice, maybe there is a faster way.
;
Firmware History:
Copy share
RCSplit_recover_V1.1.0 (05.09.2017)
Original Mirrors
RCSplit_recover_V1.0.1 (10.07.17)
RCSplit_recover_V1.1.0 (05.09.2017)
Bugs I have:
V1.1.0:
V1.0.1:
Corrupted SD Card, readable but no write/erase/format possible. Runcam keeps recording but no files (at least visible, maybe the data is somehow on the card) => only way to restore SD Card was to format it with a Teensy3.6 (or other Arduino like device) an the SDFat lib.
Runcam not updating to V1.1.0 from V1.0.1. Update via app fails after uploading 99% (0x000004), sd update deletes FW file but no update.
=> ok, card was currupted again and WiFi was not able to write and on pc write is performed but not permanently stored.
Problem FAQ:
Q: Can you help me…
A: No.
Q: The USB device is not detected


A: Press the WiFi button while connecting USB
A: Try reinstalling the driver.
Q: Your manual did not work for me.
A: May happen, I just fixed mine until now, I need more bricked hardware to guarantee.
Nice Wifi Hacks:
Livestream: rtsp://192.168.1.1/MJPG?W=720&H=400&Q=50&BR=5000000
FTP Server: Port 21, User/Password any combination, but:

By sniffing the file transfer via Runcam app we see they use passive mode, but file listing seems to be not implemented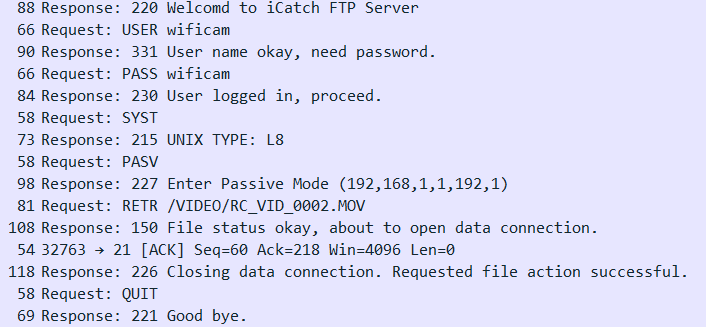 If using the app for changing settings there is also a connection on port 15740, so they uses PTP/IP. They change all settings via PTP/IP, some with custom IDs
e.g Device Property 0x0000d605 replies with video resolutions somehow (1280×720 60 1920×1080 60 1920×1080 60 1920×1080 30 1280×720 60)
Hardware Info:
Sensor: 4MP Omnivision OV4689 (1/3″, 2688*1520px, 64,6bB dynamic range)
Processor: iCatch / Sunplus SPCA6350A
16MB Winbond SPI flash
A7125 Wifi Module connected via 4-bit SDIO
Same hardware setup: EKEN H9/H9R
Products List:
By NewTn.net
---
---
Back
---
Add Comment
---
---
---
---