Holybro TekkoS 4 in 1 30A BLHeli_S ESC + Kakute F4 V2 Flight Controller + Atlatl HV 5.8G 40CH VTX
---
The AIO cube what you have been searching for.
This is a great combo for all you need in one CUBE.
ESC do look like RacerStar Anniversary Special Edition 35A P.S it's now really great deal for the 25$ price!
VTX is switchable via BetaFlight OSD and Telemetry, comes with the most wonderful connector at this time MMCX!
For the price this is realy a great deal! Get yours from bangGood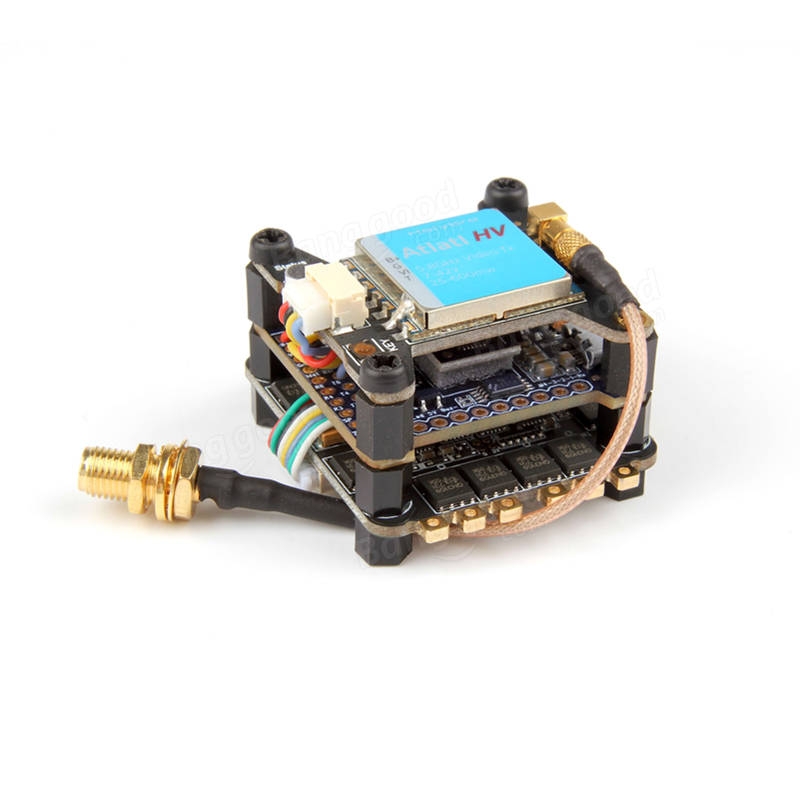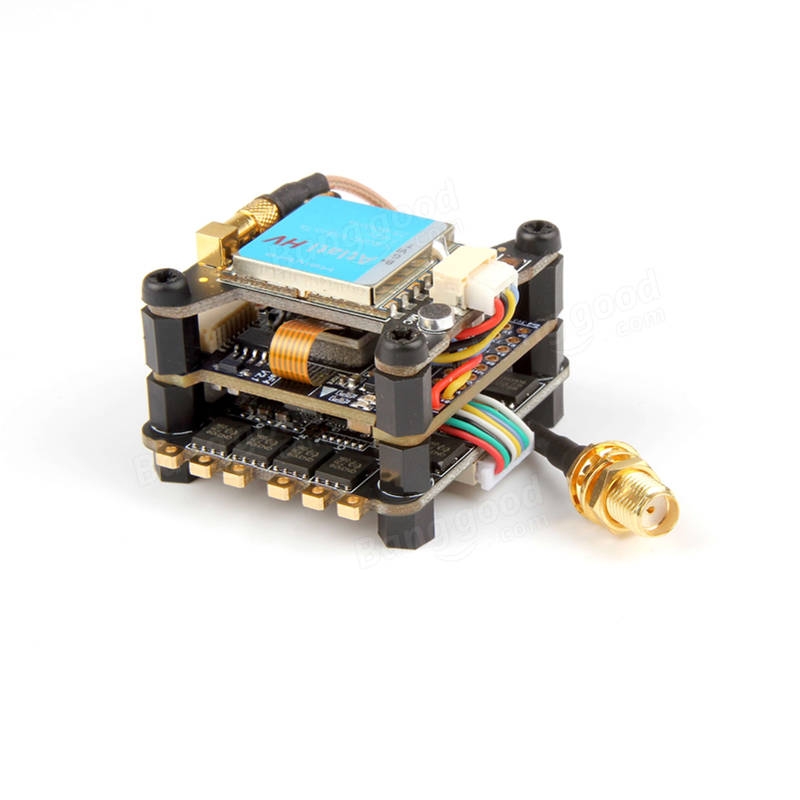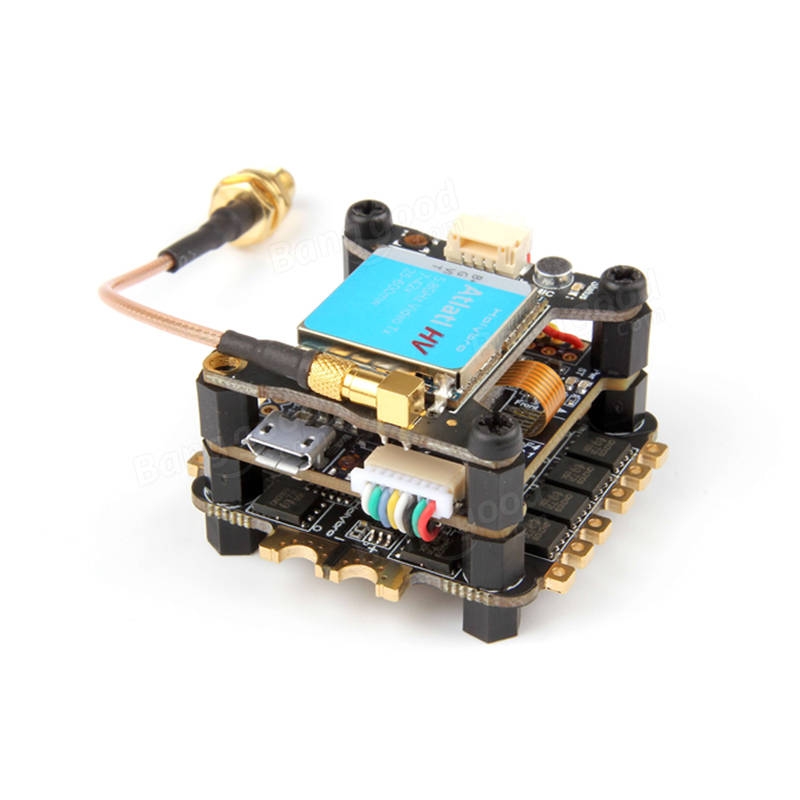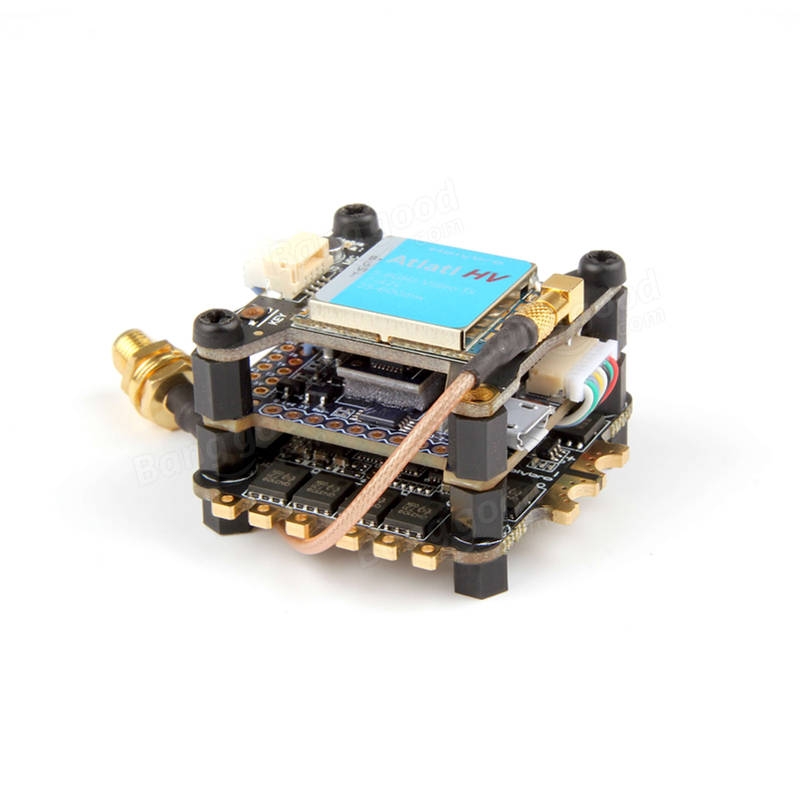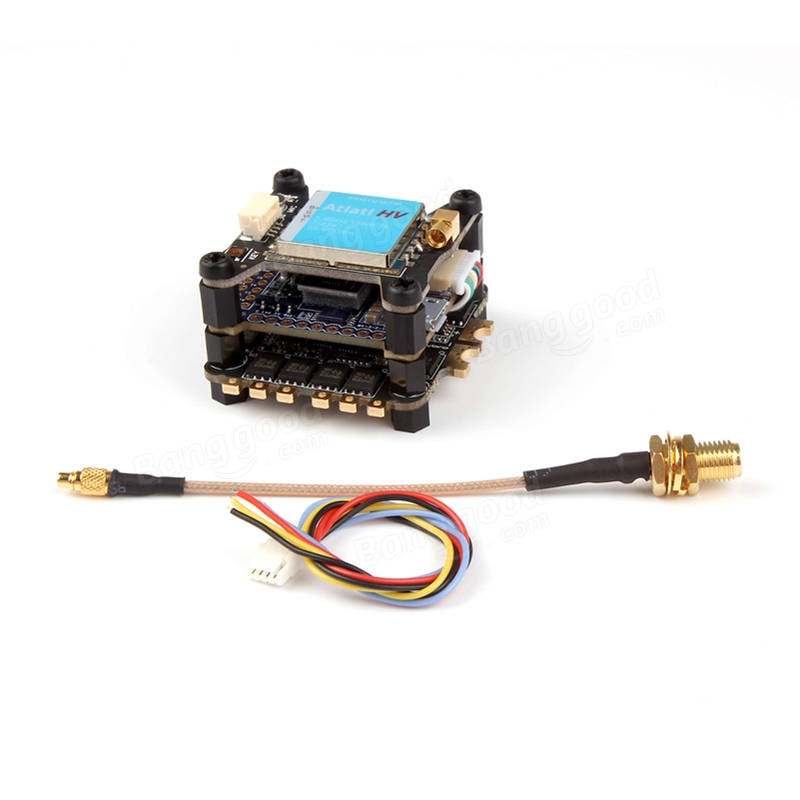 Items
Descriptions
Features
Holybro Atlatl HV 5.8G 40CH Raceband VTX

Transmitting Output Power: 15mW ( Pit Mode), 25mW/ 100mW/ 200mW/ 400mW/ 600mW Switchable

Audio: 6 MHz + 6.5 MHz Mono

Antenna Connector: MMCX

Input Voltage: 7-24V (2-6S Lipo)

Dimension: 35(L)x 35(W)x 7(H)mm

Mounting Hole: 30.5x30.5mm

Weight: 10.8g

Compatible with all major FPV receivers from vendors such as Fatshark, ImmersionRC, etc.

Supports the standard 40-channel set: band A, B, E, Fatshark, and Raceband.

Telemetry input allows remote control by the flight controller (where supported). Change channel, transmit power, and more from Betaflight OSD, flight controller USB port, Taranis, and more.

Variable transmit power from 25 mW to 600 mW. Use 25 mW for a race and then easily switch to 600 mW for freestyle.

Pit Mode allows you to power up safely without the risk of knocking other pilots out of the air.

Mono audio input allows you to install a microphone, so you can listen to your motors while you fly, no matter how far away you fly.




Standard 36mm form factor allows you to mount the Atlatl directly in your flight controller stack.

Holybro Kakute F4 V2 Flight Controller

Item name: Kakute F4 V2
MCU: STM32F405RGT6 32-bit processor

IMU: ICM20689 (SPI)

Barometer: BMP280

USB VCP Driver (all UARTs usable simultaneously; USB does not take up a UART)

5 hardware UARTS (UART1,3,4, 5, 6)

Supports serial receivers (SBUS, iBus, Spektrum, Crossfire) only. PPM and PWM receivers are not supported.

128 Mbit Dataflash chip for Blackbox logging.

Dimensions: 35x30x8mm (includes USB in height)

Mounting holes: Standard 30.5mm square to center of holes

Weight: 7g

Additional UART (UART 4) added to support serial camera communication such as to RunCam Split.

Additional UART (UART 5) added to support ESC telemetry such as from BLHeli_32 and KISS.

Through-hole solder pads instead of flat pads for more secure soldering especially for beginners.
Barometer sensor on board allows altitude hold mode.

I2C pad available for certain external sensors.

Supports Betaflight and Cleanflight.

Betaflight OSD.

Soft-mounting built in.

New high-performance / low-noise / high sensitivity IMU.
ICM20689 with 6-axis gyro and accelerometer. Can run at up to 32 kHz.

2 oz. copper PCB allows up to 120A maximum continuous current.

Dedicated bootloader button for easy firmware flashing.

Low-profile design fits into even very compact frames.

Input voltage 7v to 42v. Power the board directly from the flight pack, up to 6S (on "B+" pad only).

Automatic voltage monitoring.

Filtered voltage output for clean, noise-free video.

Supports BLHeli pass-through for easy ESC upgrade and configuration.

Holybro TekkoS 4 in 1 30A BLHeli_S ESC

Item name: TekkoS 4 in 1 30A BLHeli_S ESC

Con. Current: 30amp continuous draw per motor

Peak Current: 40amp

BEC: no

Lipo input: 3-6S

MCU: BB21

Firmware: 48Mhz Runs BLHELI_S J_H_xx firmware

Mounting hole spacing: 30.5mm x 30.5mm

BlHeli_S

D-Shot ready

Built in current sensor

Connector to flight controller

Current and voltage sent to flight controller

Easy install

High-quality components

Supports damped light

NO external capacitors needed
Package included:
1 x Kakute f4 Atlatl stack
1 x Heat sink
1 x 80mm SMA--MMCX cable
1 x 150mm 4pin JST GH wire
1 x TekkoS 4-in-1 30A ESC
1 x 8pin JST 1mm pitch 70mm cable
Get yours from bangGood
2017-12-30 11:06:39
---
---
Back
---
Add Comment
---
---
---